It's almost time for me to start getting ready for our special event today. My new outfit is dry now from the wash yesterday and now it needs ironing. Yuck.. I hate ironing… wonder if A can iron for me.. lol! A is so meticulous in that area that I'm sure he would go a great job..
Anyway, I also need to clean up the kitty room before we go. I also need to use some kind of micrometers to measure Jam's incision and see if I need to buy bandage for it since she removed the bandage by herself yesterday.. notty girl!
Have a great Sunday all!
Meoww…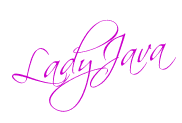 Filed under
Ramblings
|
6 Comments